Product Description
Reverse swap USB3.1 Type-C interface consists 24pin terminal supports forward and reverse swap
[experience] high-speed data transfer rates up to 10Gbps
[HD video] HDMI output supports up to 4K * 2K / 30hz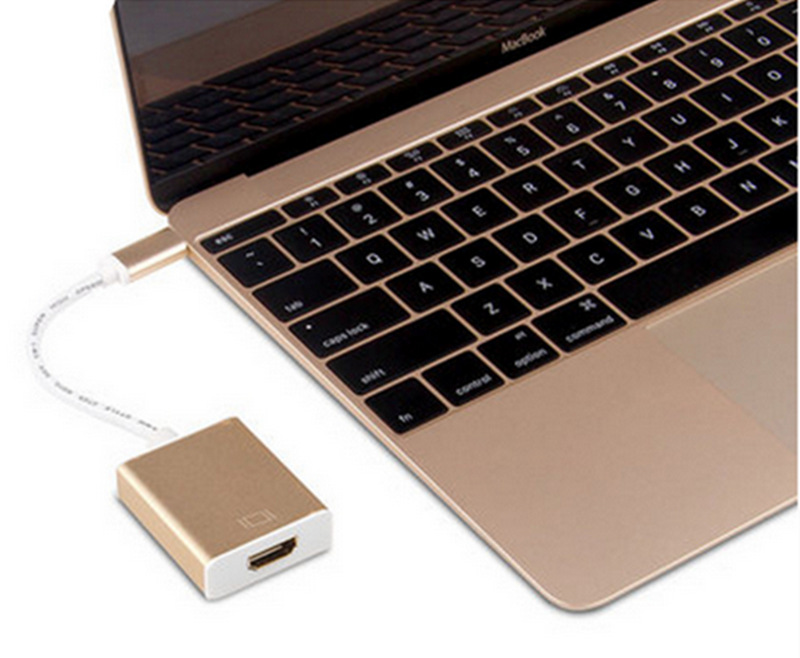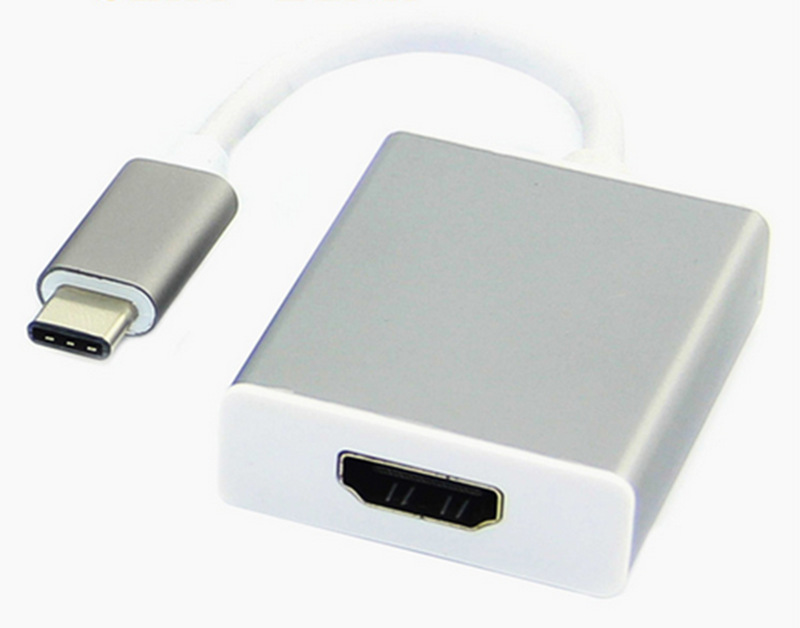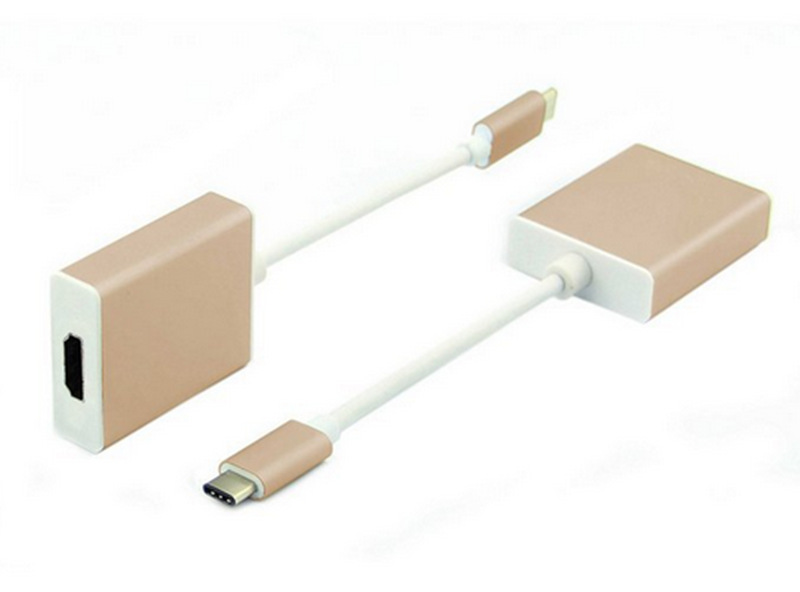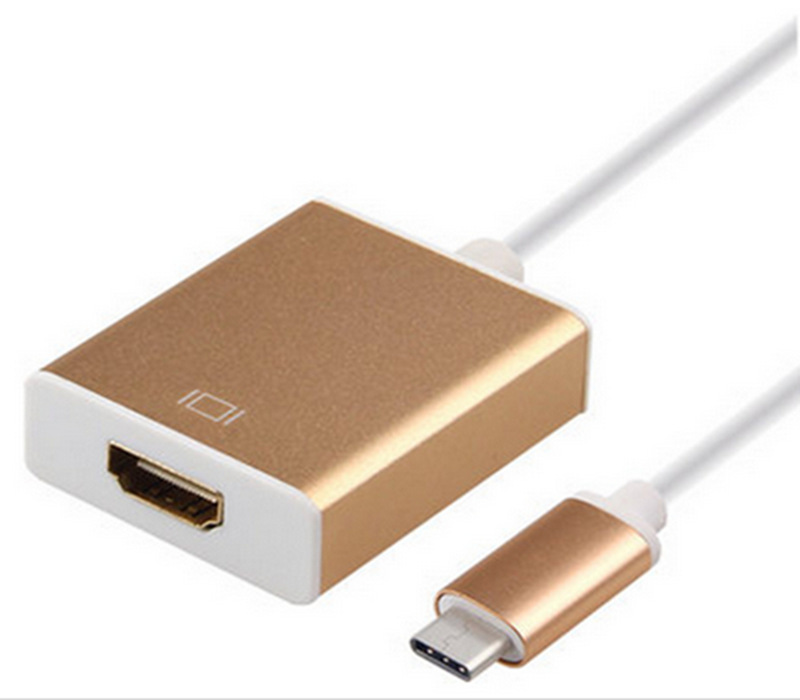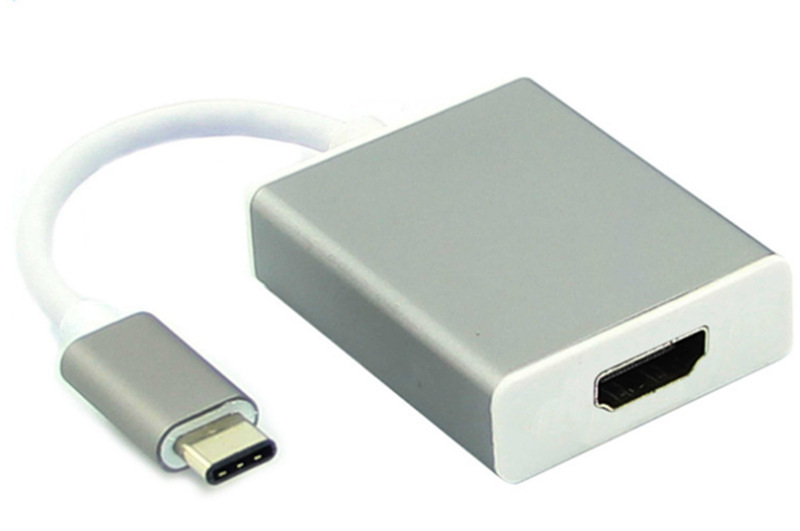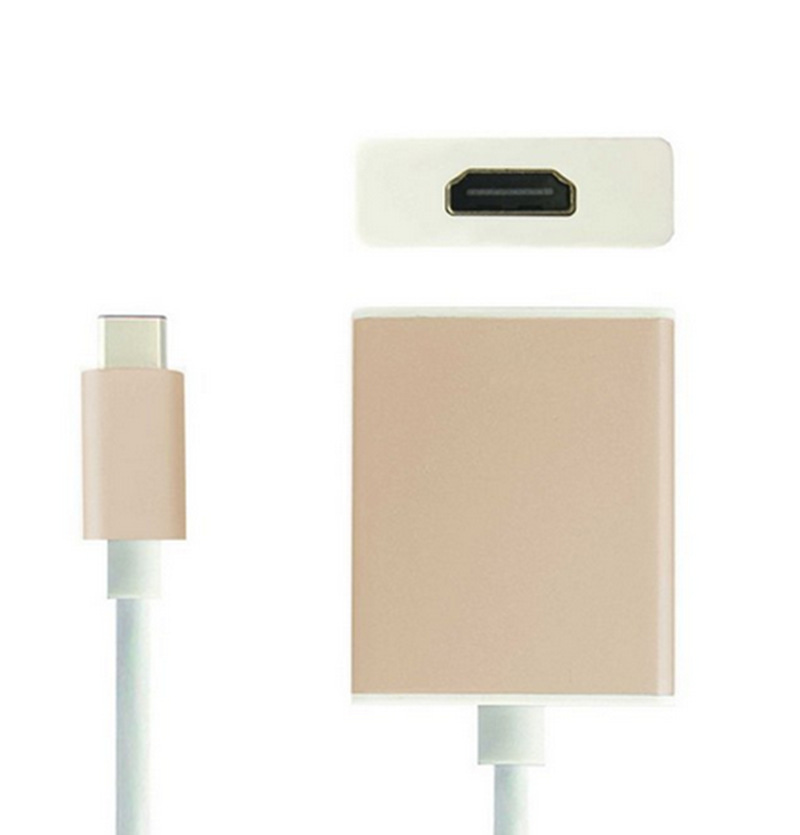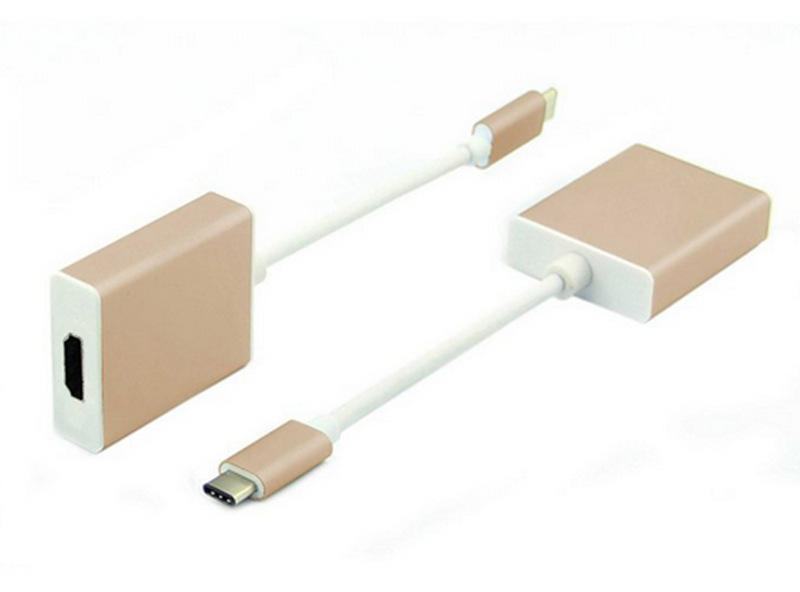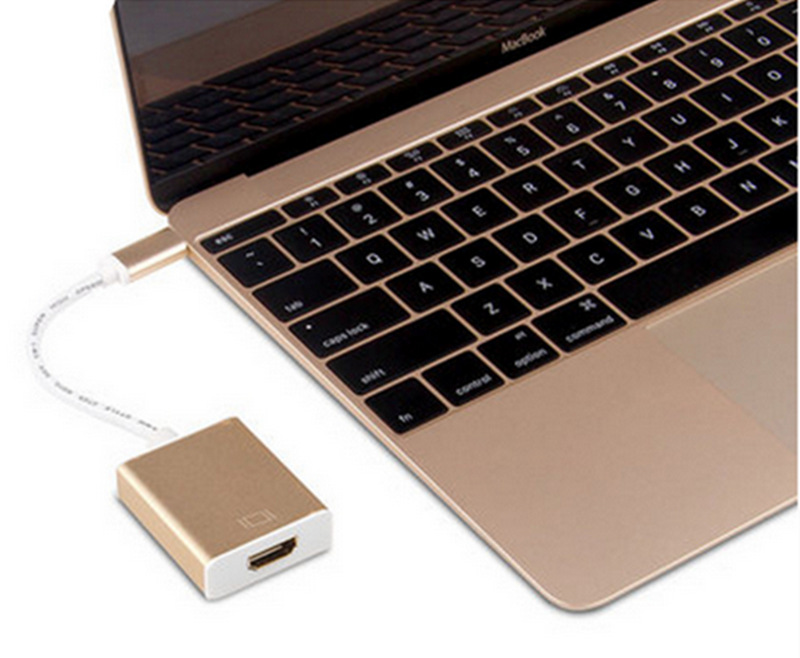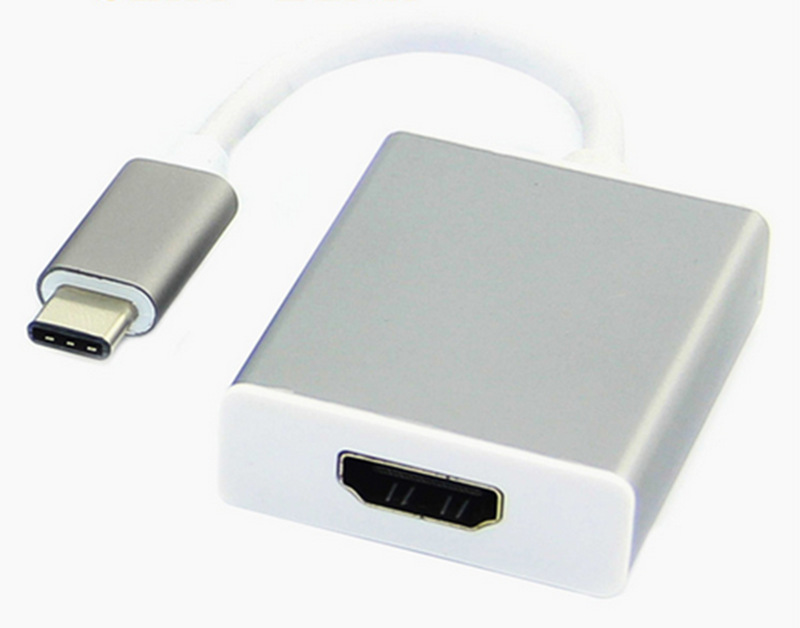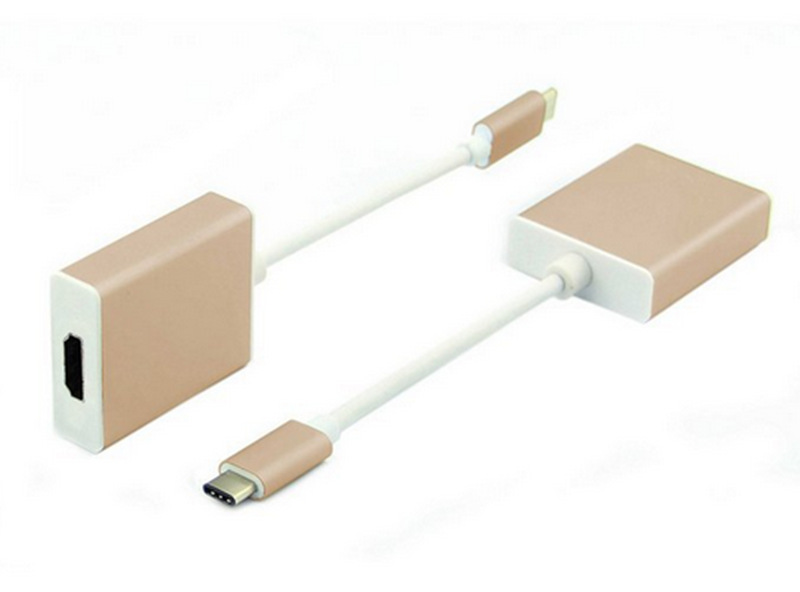 SB 3.1 and create a compromise
USB (Universal Serial Bus, Chinese called Universal Serial Bus) standard is proposed in order to standardize the connection and communication of computers and external devices; it is from the original 1996 version 1.0 started in 2000, the popularity of version 2.0, by the year 2008 version 3.0 update, now finally become the latest state in 2013 the 3.1 version. Each generation USB standard update in addition to speed up the data transfer speed to enhance scalability, the current transmission rate and other internal technology updates, as well as a consumer can intuitively perceive the point: it is an interface standard change.
In the latest USB 3.1 standard, there are three interface styles, is a Type-A (ie, Standard-A, on a conventional computer the most common USB interface style), is a Type-B (both Micro-B, the Samsung Galaxy Note 3 with style interface), and the other is the interface style Type-C (that is mentioned in this article new design).
From the three interface style naming, we can intuitively feel, USB 3.1 standard setters (USB IF Association) is also trying to simplify and harmonize the current numerous different types of interfaces. Simply put, USB IF Association chose two from one of the most extensive existing close as many as dozens of USB interface, named as Type-A and Type-B, and then again designed a new interface and named as Type-C; only these three interfaces to be able to support data transmission speed and current transfer size USB 3.1 standards, and so the technical standards.
In fact, USB technology as the standard for every new version to be developed on the basis of technical updates on the consideration of the previous version of the compatibility issues. From the perspective of a single interface standard, style Type-A USB theoretically compatible from birth to now virtually all USB-equipped computer (except for 2015, the latest release of Macbook Air and Chromebook Pixel), as are USB 3.1 Type-A before each version are determined to be the only type of USB interface with the computer end of the connection.
The Type-B and then follow the Mciro-B compatible Interface USB 3.0 version under, not only that, Type-B female port (female port, the English called receptacle, with some referring to the connector end is inserted into the device) unilaterally compatible with all existing android phone is equipped with Micro-USB male (male, English Plug, with the corresponding female port, it refers to the insertion port female connector end).
Therefore we can say, in three standard USB 3.1 interface, the presence of Type-A and Type-B is considered more backward compatibility and harmonization of the existing interface problems. In a sense, the presence of both can be considered a new standard for a compromise past; of course, this compromise is necessary.
Only Type-C USB 3.1 is the most real sense of place and create a bright spot. Not only reflected in its groundbreaking promotion in the past with respect to the technical standards, but also more concentrated reflected in its unprecedented appearance of the style; this style is new, completely future-oriented. It is also because of this, Type-C at the design stage by the world's attention; when it is finally formed is made public, but also aroused numerous discussions and expectations.
Today, it has grown from a concept into a product that people can use.
Finally arrived humane
Type-C from a design concept to final product is formed not only by the USB 3.1 standard-setter's attention, but also triggered the equipment manufacturers and the general concerns of consumers. The reason for being concerned about it, but because of its design itself is to deal with the more critical data transmission future development of the consumer electronics industry will be faced with related efficiency, diversity, simplicity, portability and ease of use sexual problems.
Type-C have the following characteristics determines that it is destined to represent the data interface of the future.
More efficient data transfer capability. Cross-device data transmission is the essential meaning of USB existence; so every generation USB standard to enhance the first problem to be solved is the data transmission speed and efficiency. Under the Type-C is supported by the USB 3.1 standard, theoretical data transfer speed of 480Mbps USB 2.0 has been upgraded from the era (the equivalent of 60MB per second) to 10Gbps (equivalent to 1280MB per second), the transmission loss rate data is also made USB3.0 20% down to 3%. These are guaranteed data transmission efficiency not only meet today's demand for information transmission, can also ease in the coming period of time.
Richer scalability. Computer can be connected via USB to almost all external devices, but the audio and video transmission, USB version 3.0 and earlier can only remain at the highest level of 1080P Full HD, while the Type-C USB 3.1 standard under interface can transmit up to 4K display. Today's market has emerged 4K TV, phone screen configuration has entered the era of 2K and continuously improve; and USB 3.1 and Type-C corresponds exactly to the emergence of this trend.
Stronger power supply capacity. Standard USB 3.1 Type-C interface to the power supply capacity can reach up to 20V / 5A, not only to meet the requirements of mobile phone charger, but also to meet the needs of the charging device and tablet computers; In addition, this power supply capacity to be removed from other high-power electrical devices need another external power supply connected to trouble.
The above, more Type-C interface is based on the technical characteristics of USB 3.1 standards; and for the Type-C interfaces, in addition to meeting the above features more advanced technology, there are other more obvious and ordinary consumers closer relationship style features.
Slimmer appearance. Compared with the usual Type-A and Type-B enormous large width, Type-C size is about 8.3mm × 2.5mm shape more responsive to people's laptops, mobile phones and other mobile devices and tablet thickness of the body of the increasingly the more stringent requirements. Especially mobile phones, has several section models thickness of the body has exceeded the limits of 5mm reached 4.75mm, and in the next generation iPhone rumors thickness may be 4.3mm. Even so, this design thickness of 2.5mm Type-C is still more than enough.
Positive and negative Jieke inserted. This feature is also a Type-C the most commendable thing, it is compared with other interfaces most humane place; it addresses both the computer or tablet, mobile phones and other devices "USB plug never allowed" problem.
In short, Type-C interface to both in the technical development of the industry itself is more important, or more concerned about the consumer's ease of use and user-friendly, fully meet the needs of current and future period of time; and in the consumers' products under this quest easy drive, while Nokia, Apple, Google and other top brands bold demonstration effect under Type-C interface, will form a Type-C popular in the world's major trend in the future.
Coming era of mobile data
At this point, with respect to the future development trend of Type-C can be temporarily come to an end; going to talk about that in the Type-C interface is designed to be behind the high hopes and, in fact, have a more profound significance.
Front has been said, USB standard proposed is based on a basic concept – specification computers to connect and communicate with other external devices; another meaning of this concept is to computer-data distribution center, other external device data dispersion point. These different points of data across a computer to retrieve this data distribution center data, send, display, switching, and other work; the nature of the work, of course, are the data transfer, but due to multiple device types, transfer mode, the amount of information, etc. in different ways, so the formation of a variety of differentiated manner. In order to ensure that data can be allowed in the case of these differences can still communicate with the computer, you need a basic data transfer specification; this specification is that people later realized and developed by the USB standard.
This idea is also in the style USB interface. Starting USB 1.0 era, people for the data distribution center – computer – designed Type-A USB 3.1 standard interface to today's style used (of course, that time is not the title), and this has gone through USB interface to style 1.1, USB 2.0 and the USB 3.0 standard update three generations, still tenaciously survive in this world and ruled that in fact the vast majority of the computer's USB interface type.
By comparison, other external device as the data is scattered point, only some of them disappeared, some have emerged in the transformation of time, and the interface style is also showing a fragmented state of confusion. All this, both because the computer has been used as the only one able to connect to the Internet data centers exist in this world, but also in people's consciousness.
And to the USB3.1 era, Type-C interface to the birth; not only this interface can be connected to your phone, tablet and other devices, it can be directly connected to our computer. In other words, Type-C interface not only can replace our daily use of various mobile phone interface U disk, mobile power equipment, it can even replace the Type-A becomes the interface for data exchange computer.
Thus, in the latest USB 3.1 standard, the number of computers is no longer the exclusive data line wherein the center of one end, which may become a node in the data from the two ends are a Type-C interface cable connected; even possible, after the transmission of data between mobile phones and tablet and other devices are connected to each other through a Type-C, leaving that once a computer data center nobody cares.
This is the real meaning of the Type-C lies. It means a new phase of the information age – the era of mobile Internet. In this day and age, there are more and more devices – computer, phone, tablet, TV, e-book readers and even cars, etc. – can be used in different ways to access the Internet, so as to previously by the Type-A interface computer data hub status symbol of the gradual digestion, thereby forming a more equal many data nodes including computers, mobile phones, flat panel, including. And an important tool to communicate with many of these data node that we just mentioned Type-C interface.
So, we will wait and look forward to a world of popular Type-C interface for trends.